What to wear to afternoon tea
May 2022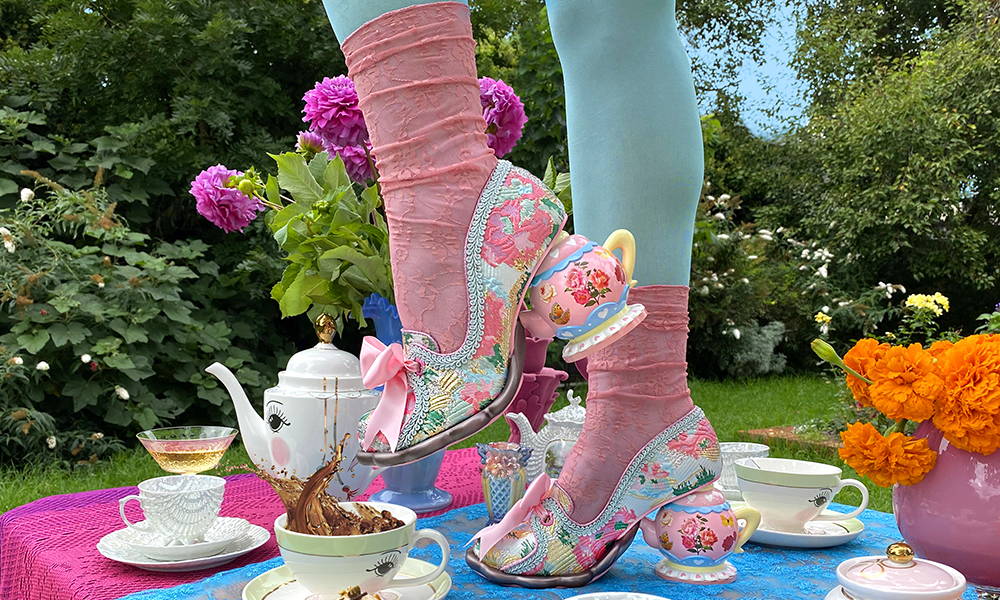 The social season is upon us and we're already dreaming of enchanting outfits to wear to an afternoon tea date, but there's so much choice it's hard to decide what to pick! An afternoon tea dress code is often 'smart casual' but that doesn't mean you can't add some fun to your outfit. Our guide is here to help you to express your Irregular Choice style when gossiping over tea and cake!
A traditional British afternoon tea is usually served on a three tiered plate, along with a pot of piping hot tea and cute cups and saucers. Delicately made sandwiches are followed by traditional scones with clotted cream and jam, ending in cakes and sweet treats! (It's making us hungry just thinking about it!)
Of course we think that shoes are always the most important part of an outfit, so feast your eyes upon these teapot heel beauties that radiate tea party indulgence!
The Short & Spout Collection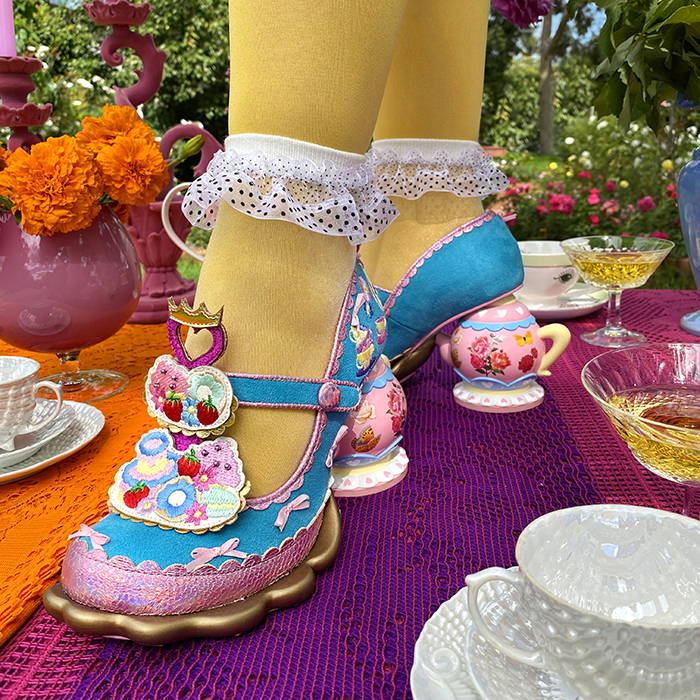 Make your look super classy by wearing a fabulous frock - this is your chance to have fun playing with fabrics, colour and patterns that will help you feel as special as the Diamond of the First Water! Whether you choose sugary pastels or bold florals, the right cut and fit will make your look fresh and effortless. Choose a tea dress for it's comfortable breeziness, perfect for those warm evenings that await!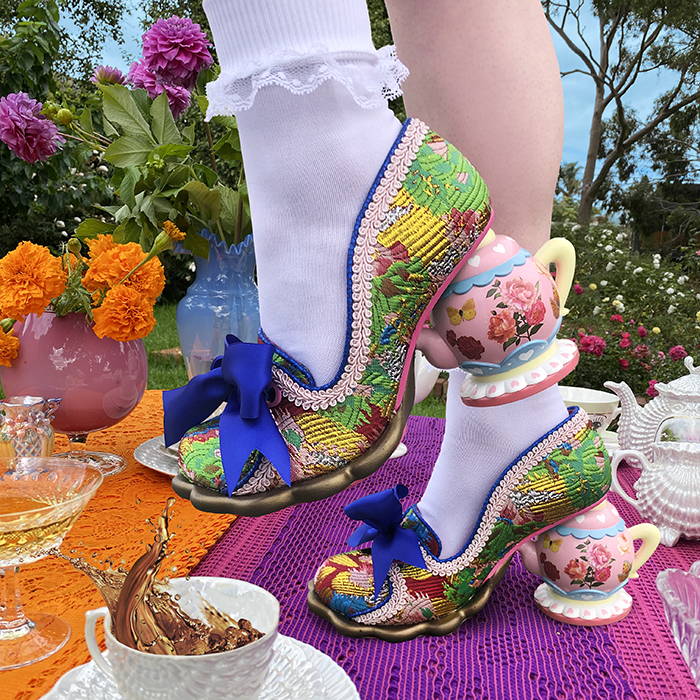 If dresses are not your vibe then a flowy pair of trousers paired with your favourite top is a fab option (even better if they're elasticated to make room for all the scones and sandwiches!). If the venue requires a more formal attire, add a blazer to the mix. Suits are no longer for the corporate world and are now the perfect fashion statement for such a feast!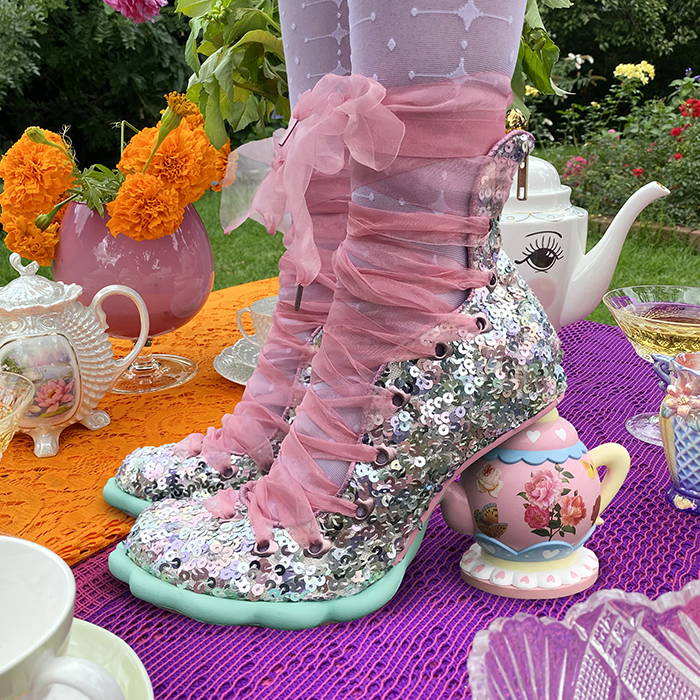 The outfit opportunities for these shoes are endless! From wearing a pink dress to accentuate the ribbon lace ups with the 'High Tea' booties to wearing a pair of jeans with these 'Elevenses' heels to make them really pop. The choice is all yours, remember to have fun and wear what makes you feel good!
We apologise if you are now craving delicious goodies, so we thought it would be handy to share some amazing places to go for your afternoon tea of dreams…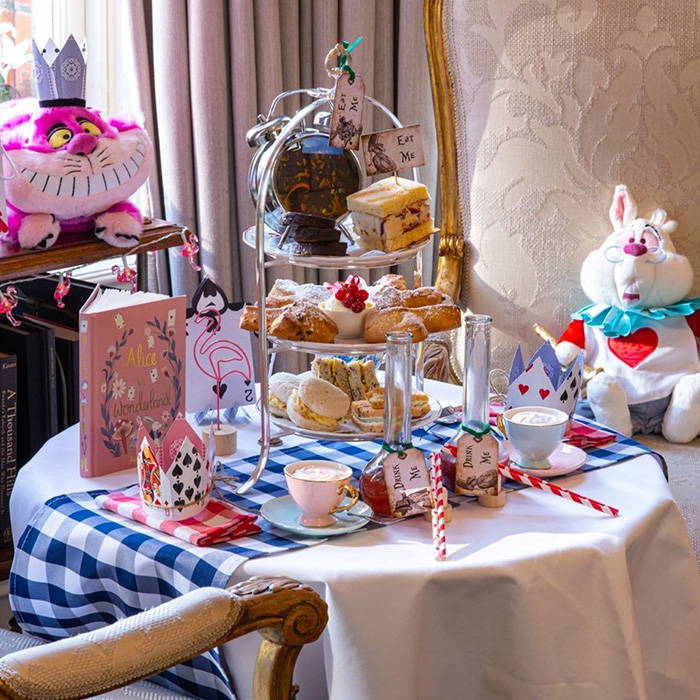 Egerton House Hotel is located in Knightsbridge, London, and has something for all the family… even your dog! You can take a trip into the world of Alice in Wonderland with 'The Hatter's Tea Party' option and for the kids a "White Rabbit" Afternoon Tea which comes with ice cream sandwiches, freshly baked scones, and plenty more goodies to enjoy! If you love dogs as much as we do, you'd be delighted to know they even offer a Doggy Afternoon Tea that will get your pooches tail wagging!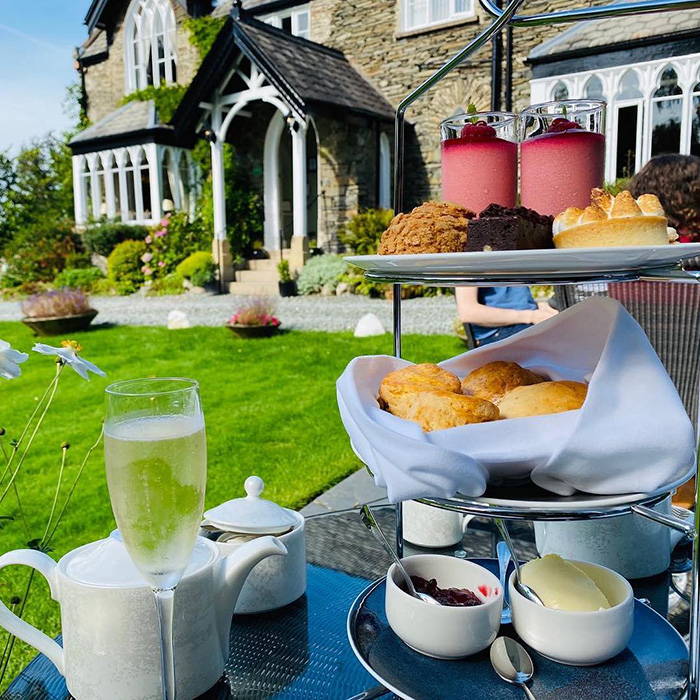 Escape to the country for a traditional afternoon tea experience in the Lake District at Cedar Manor in Windermere! Enjoy your treats in the restaurant, lounge, or garden of this sophisticated stone manor. One customer said: "The best afternoon tea we've had! It was such a beautiful setting. The range of teas was incredible and there was something for everyone."
Cat person? If the answer is yes then we have found the place for you! Treat yourself to afternoon tea at the Kitty Cafe in either Leeds, Birmingham, or Nottingham. As well as being a cafe, they are a rehoming centre for abandoned cats. It is such a unique and wonderful place where you can support the rescue of these cute cats by spending a lovely afternoon drinking tea!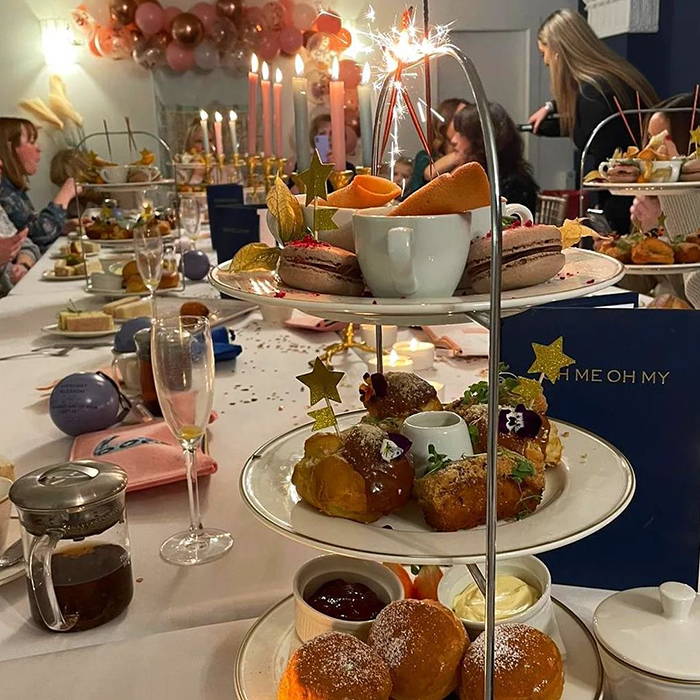 OH ME OH MY definitely puts the fun into afternoon tea! A Cafe and Events space in the heart of Liverpool known for their amazing views from the roof garden, a dazzling sparkly interior, and being 'the home of celebration!'. Enjoy the delectable treats and create special memories with your loved ones!